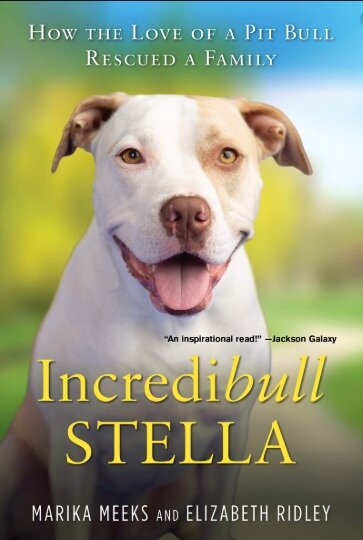 Unconditional love is life-changing and life-saving. My book club pick for October, Incredibull STELLA, by Marika Meeks and Elizabeth Ridley, is the story of just such a love between a woman struggling to find her way back to joy and a rescue pup that will show her the path.
Marika Meeks, a busy, active entrepreneur, wife and mom, was struggling after recovering from extensive treatments to battle Stage 3 breast cancer, which involved a long extended stay from her family; husband Brian, and her two teenaged girls.
Although the treatments had been deemed a "success" and Marika was now cancer free, she felt as though the experience had robbed her of her vital essence. Fatigued physically and mentally, and feeling an emotional strain between her husband and children, Marika wondered if she'd ever be whole again!
Years before, Marika had wanted a dog, but she'd had three less than positive experiences. The pups she'd adopted and tried to embrace as family members had behavioral issues that neither her or her first husband were able to correct or live with. When she agreed to marry her second husband, Brian, one of his conditions was that they would not have dogs… so why were her thoughts returning over and over again to having a canine companion?
Would she have to convince Brian? Would her request put added stress on a marriage that had already endured so much throughout her diagnosis and treatment? As it turns out, not so much. Brian was committed to Marika and seeing her enthused about something - even pet adoption - made him want to support her.
There were a few rocky starts to finding the perfect companion. Marika fell in love a few times only to find out the mutts that had won her heart were not available for adoption, but then in walked "Shirley" a pup that had been abandoned along a dessert road-side. Upon first meeting, this little girl rolled over on her back and begged for a belly-rub. It was pretty much love at first site for Marika, and it wasn't long before Shirley had won over Brian and the girls.
Shirley, of course, became Stella, and over her happy countenance, puppy high-jinx, and overall lovable character, this family re-bonded, and Marika regained meaning and purpose in her life.
I've always loved dogs and especially my rescue mutts that make the farm a furry and friendly place. Many a sad moment have I clutched and cried into a beloved's fur and received nothing but pure, nonjudgemental love in return. I'm so glad Marika was able to find her spirit once again through Stella's love.
This is a fantastic book and I think that any reader will become a fan of Stella, Marika, and their family, but I think you'll especially love it if you're a dog-nut like me!
Pick up your copy of Incredibull STELLA HERE
I also have a nice big stack of Incredibull STELLA books to give away! Want one? Just send me a note, I'll mail a copy to the first emails to hit my in-box until they're gone!